Create Cultural Competency
Through an initial structured assessment, we help our clients identify successes and challenges regarding multiculturalism and cultural competency. We support organizations to develop multi-level teams comprising of representatives from Executive Management, Supervisors, Leads, and Line Staff whose primary task is to oversee and monitor progress toward achieving the agencies  cultural competency and diversity objectives.
x
Services Offered
Assistance in developing a comprehensive cultural competency plan that addresses organizational values, governance, human resources, and service delivery.
Assistance in developing clear overall cultural competency policies and practices and implementation of language capacity and policies.
Train staff and executive committee members on equity and multicultural frameworks.
Coach executive staff one to one; team coaching of line staff involved in the effort; and real time learning with case studies that arise from the work.
Outcomes
Implementation of cultural competency best practice in the organization.
Greater client satisfaction and community engagement.
Greater staff confidence in providing services in a
culturally respectful manner.
Effective culturally competent leadership.
Increased Internal capacity to support the integration of multicultural change in the organization.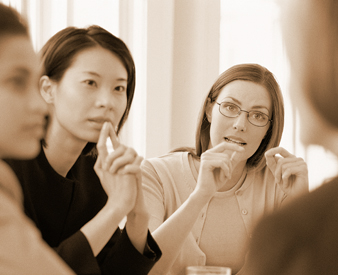 As this skilled team introduced the theoretical framework within which we would begin the work of transforming our organizational culture and, ultimately, the delivery of services to our clients, it was immediately clear that this work was really our work…Terry Berman & Associates provided building blocks on which to construct an alternative, expanded, and more inclusive organization and highlighted our individual and collective roles within the agency and community. They helped us build a vocabulary with which to better engage in dialogue to build equity, and grow consensus. Our work has been challenging.  Our work has been exhilarating.  Our work continues.