Strengthen Staff Development
We use the information gathered in our assessment process to tailor training opportunities for all levels of the organization. The trainings will provide models and tools for understanding and engaging in a multicultural process and establish a common language for effective cross-cultural dialogues. These tools build multicultural and cultural competency capacity among the staff in order to increase culturally competent service delivery. In addition, the tools are used to develop options for application and sustainability of multiculturalism and cultural competency in the agency.
x
Services Offered:
One-time introductory trainings.
Specifically identified time frame for training process to introduce all staff members to equity frameworks.
On-going problem solving and training.
Outcomes:
Improve diversity outreach, hiring, orientation and retention practices.
Improve service delivery by building better relationship with the communities they serve, utilizing cultural brokers both inside and out side the organization.
Implement ongoing training across all levels of the organizations beyond state mandated training.
Support Internal capacity to continue the ongoing work of cultural competency in an agency.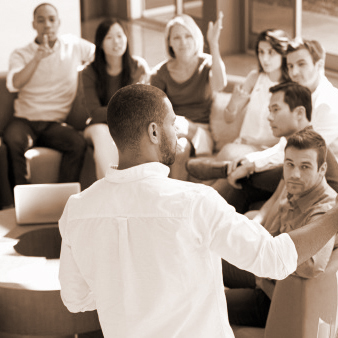 Working with Terry Berman and Associates over the past ten years has been absolutely central to our success as an agency. Whether it's an interpersonal intervention, a one-day all staff retreat or the multi-day intensive that we send every manager to, staff consistently give their facilitators rave reviews. Their work sharpens the staff's understanding of the impact of race, gender, class, and position on our day-to-day interactions. They impart easy-to-remember tools to resolve conflicts in ways that deepen our relationships with one another, enhance morale and helps everyone focus on clients' needs. And they do it with extraordinary humor, compassion and skill.